Printing any type of wide-format media is becoming more and more popular/essential by the day. Whether it relates to education, business, or entertainment, posters are always a fun addition as they portray their creators/owners' style, hobbies, and ambitions.
This has led many people to create a business out of it, and for such a business to succeed, you'll definitely need the best printer for printing posters to be your ally. That's precisely where our article, best poster printer, comes into play.
Comparison Table:
| | | | | | |
| --- | --- | --- | --- | --- | --- |
| Model | Price | Resolution | Print Speed | Printing Technology | Maximum Poster Size |
| HP Designjet T120 | Check Price | 1200×1200 | A1/45 secs | Inkjet/Thermal | 24 inch |
| Epson SureColor T5170 | Check Price | 2400×1200 | A1/31 secs | Inkjet | 36 inch |
| HP DesignJet T130 | Check Price | 2400×1200 | A1/35 secs | Inkjet | 24 inch |
| Canon ImagePROGRAF iPF770 | Check Price | 2400×1200 | A1/25 secs | Inkjet | 36 inch |
| HP DesignJet T520 | Check Price | 2400×1200 | A1/35 secs | Inkjet | 36 inch |
The 5 Best Poster Printers in 2022
Now that we're done with the pure technicalities let's dive straight into the detailed descriptions of each of those top-notch poster printers.
1. HP Designjet T120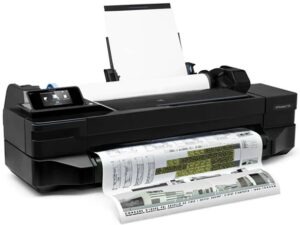 Our very first wide-format poster printer is the HP Designjet T120, and it offers a vast range of exceptional attributes that has guaranteed its place at the top of this list.
These great features start with its resolution of 1200×1200 dpi and end with its compliance to the Green standards and the EnergyStar standards. This means that not only is this poster printer environmentally friendly, but budget-friendly as well through regulating energy consumption as much as possible.
As for the printing of qualities of the HP Designjet T120 has a maximum width of 24 inches, which allows it to print all sizes starting from A1 up to anything. As for the speed, this device can push out an A1 sheet completely printed in 45 seconds; plus, it has an overall printing speed of 241.1 ft./h.
Speaking of the produced output, you can get any output that you like with the HP Designjet T120, as it can print in both inkjet and thermal technologies. The choice between these two technologies depends on whether your work is oriented towards photo printing or document printing.
Moreover, it comes with an ADF for an effortless feed, a spindle for effortless roll feeding, and a 4.3 inch LCD touchscreen, which makes handling commands a walk through the park for anyone. This also means that it can print on both cut-sheets and rolls alike.
One more thing is that it comes with an included stand to hold the printer safely. On the other hand, printers for poster printing are known for being expensive, and the HP Designjet T120 is no different as its price tag is rather hefty. Also, you'll find that the color options are somewhat limited.
What We Like:
1200×1200 dpi
Inkjet and thermal printing
24-inch maximum width
WiFi and Ethernet
A1/45 sec, or 241.1 ft/hr printing speed
EnergyStar rated
Green Compliant
ADF
4.3 inch LCD touchscreen
What We Don't Like:
Expensive
Limited color options
Bottom Line
Overall, the HP Designjet T120 proved to be the perfect choice for anyone who has to do multiple tasks around their office/home. It can print in either inkjet or thermal technologies and has a maximum printing width of 24 inches.
---
2. Epson SureColor T5170
Epson has always been a pioneer of the printing industry; that's why it has made its debut on this list in the second place. This excellent printer has a maximum width of 36 inches and a resolution of 2400×1200 dpi, which guarantees excellent print quality and superior output every time.
Another great spec of the Epson SureColor T5170 is that this output comes out rather fast, as an A1 sheet takes only 31 seconds. Furthermore, this printer for poster printing comes with a 4.3 inch LCD touchscreen, which makes handling the device as a whole an easy task.
Another thing that adds to the efficiency of this poster printer is its companion app, which allows you to print from any device such as your phone as long as you can connect it via WiFi.
Speaking of connectivity, the Epson SureColor T5170 has a USB 3.0 port that makes data transfer much faster. One more thing is that this device is designed in a sleek modern way in order to fit effortlessly into any work/home-space.
Additionally, its cleanup and maintenance hardly consume any time or effort for the comfort of the client. Furthermore, the accessories of this printer include a stand, which helps protect the printer and keep it as stable as possible. Another possible addition is a scanner in order to directly transport documents.
Moreover, the cartridges that come with this device boast an incredible capacity of 50 mL for the color cartridge and 80 mL for the black cartridge, so it'll be a long time before you need to refill the cartridges or re-purchase them.
On the other side of the spectrum, this printer is also rather expensive, and it only supports plain paper, which can limit your options.
What We Like:
36-inch maximum width
2400×1200 dpi
A1/31 secs
4.3 inch LCD touchscreen
USB 3.0 and WiFi
Companion App
Can connect to a scanner
Easy cleanup and maintenance
High capacity cartridges; 50ml color, and 80ml black
What We Don't Like:
Costly
Only supports plain paper
Bottom Line
The Epson SureColor T5170 is an excellent choice if what you're looking for is a device oriented towards cost efficiency and saving energy. Although the initial cost of this device is backbreaking, the running costs are much more delicate.
---
3. HP DesignJet T130
Another entrance by HP is the HP DesignJet T130, and this one is all about the printer itself. It boasts a resolution of 1200×2400 dpi and a maximum width of 24 inches. Hence, it can print any possible size that you might want. Actually, an A1 sheet will take 35 seconds to come out, so any other size will take much less time.
The color touchscreen allows you to navigate all of your different options for accurate commands. Now, let's talk about the connectivity options for the HP DesignJet T130. This device includes USB, WiFi, and any device connected to the printer via WiFi, such as phones and tablets.
Furthermore, the HP DesignJet T130 can work with anything as it uses both rolls and cut sheets thanks to its already existent automatic horizontal cutter. Unfortunately, although working with the printer itself is a piece of cake, installing it is the exact opposite of that.
Getting the right drivers is a tiresome task, and a lot of clients tend to need the help of an HP employee in order to fully install the drivers that they need to support all of the tasks that they want completed.
Also, dealing with a MacBook brings another level of complication to the process as it needs entirely different drivers, and the software provided by this specific model is no help whatsoever.
Lastly, unlike all of its colleagues, the HP DesignJet T130 doesn't come with an included stand, so you'll have to either place it somewhere or purchase the stand individually, which will, of course, be an added cost.
What We Like:
1200×2400 dpi
24-inch maximum width
A1/35 secs
Uses rolls and sheets
Automatic horizontal cutter
What We Don't Like:
Subpar software
No stand included
Bottom Line
If you do have the patience to deal with the extensive installation process of the HP DesignJet T130, you'll definitely find a lot of gain at the end of the road here. This printer can literally work with anything and has a maximum printing speed of35 seconds for an A1 sheet.
---
4. Canon ImagePROGRAF iPF770
The Canon ImagePROGRAF iPF770 boasts an incredible printing speed of 25 seconds for a full A1 sheet. Plus, it's not just a printer for poster printing, but it can print an extensive range of different media while still maintaining low running costs.
That is courtesy of the Sub-Tank ink system, which helps you utilize every last drop of ink that you have without wasting any. Also, unlike so many other printers, this device allows you to change your ink cartridges mid-print without ruining your document. So, you can say goodbye to all of these half-documents that always find their way into the trash.
Furthermore, the Canon ImagePROGRAF iPF770 can print with a resolution of 2400×1200 dpi, which allows for precision printing. Actually, this poster printing machine has an accuracy of 0.1%.
Another thing that helps with your documents being on-point is the user-friendly software that comes with this printer, which allows users to give very accurate commands easily without having to rummage around in the app. Canon also provides a number of programs to facilitate the users' experience even more, such as Mobile printing, Microsoft office print plug-in, and the account management software.
Mobile printing is pretty self-explanatory, allowing you to print from any device. As for the Microsoft print plug-in, this enables you to create documents on any Microsoft office program and print them directly and with a very high level of precision. Lastly, the account management software allows you to track your ink usage and cost over time.
One more thing is that when comparing the price of the Canon ImagePROGRAF iPF770 to the prices of other printers for posters, you'd find that this one is a lot more affordable than its colleagues.
Sadly, it comes with a few drawbacks, which include the fact that it only accepts USB 2.0 connectivity, which can be a bit slower. Also, the display is a bit too small, and lastly, the cutting blade fitted into the printer is not of the best quality.
What We Like:
A1/25 secs
36-inch maximum width
Sub-tank ink system
User-friendly software
Mobile printing
Microsoft Office print plug-in
Account Management software
2400×1200 dpi
What We Don't Like:
Only USB 2.0 connectivity
Small display
Sub-par cutting blade
Bottom Line
If what you need in a printer for poster printing includes speed, precision, accuracy, and ease-of-use, then the Canon ImagePROGRAF iPF770 would be an excellent friend for you along the way.
---
5. HP DesignJet T520
Our last entry is also by HP, and it boasts a maximum printing width of 36 inches allowing you to print anything that you could possibly want. As for the print speed, an A1 sheet takes 35 seconds to be completed, and during an hour, this device can shoot 257 ft of printed paper in a resolution of 2400×1200 dpi.
Moreover, the HP DesignJet T520 enjoys true print previews meaning that what you see on the screen of your device is precisely what you'll be getting in print. Add to that its HP Designjet and ePrint and Share, which allows you to automatically upload all of your documents to the cloud, and you have got all your documents saved securely in case of an emergency.
Additionally, it's EnergyStar certified, meaning that all of these options won't consume more energy than the norm. Combine that with the 4.3-inch touchscreen, and you'll understand the overall appeal of the HP DesignJet T520.
It can also accept both rolls and cut sheets thanks to its automatic cutter. Sadly, before the printer actually does its thing, you have to realign the printheads almost every time you want to print, which can be rather annoying. It also sports a pretty hefty price tag.
What We Like:
Hp Designjet ePrint and Share
36-inch maximum printing width
A1/35 secs or 257 ft/hr
4.3-inch touchscreen
2400×1200 dpi
EnergyStar certified
True print previews
What We Don't Like:
Needs much maintenance
Expensive
Bottom Line
The HP DesignJet T520 is a 36-inch printer that can produce up to 257 ft of print in one hour, and it gives you the freedom to deal with either sheets or rolls. Everything is up to you at the end, so if you can deal with it financially, go for it.
---
How to Hit-upon The Best Poster Printer?
Now, we'll familiarize you with a few factors that you must take into consideration whenever you're searching for printers for posters.
Graphics and Ink
The primary element must be the graphics and resolution produced by the poster printer machine. Since you're printing posters, you'll need a high resolution of at least 1200×1200 dpi in order to get the best quality out of your poster printer.
One factor that heavily impacts the output quality for any printer for posters is the ink system. You'll need at least a four-ink system in order to achieve acceptable high-quality posters.
Print-Speed
Whether you choose to utilize the printer for posters that you'll purchase in your home or your office, print speed is essential for your satisfaction. Nevertheless, if you're running a business, then print speed becomes even more critical, and the faster, the better while still maintaining top-notch quality. Consequently, a range of 25 to 45 seconds for one A1 sheet seems very reasonable.
Media Compatibility
As we have spoken again and again about the best printer for printing posters, we have mentioned the maximum width for every poster size printer that we have talked about.
The thing is, flexibility is always a winner, which is why a printer that can deal with all paper sizes starting with envelope and A5 up to A1 and A0 will always be much more beneficial than a printer that can only deal with one size.
Brands and Maintenance
When you make the decision to purchase a poster printer, you'll find yourself paying, at the very least, $1000. Hence, although it's not a lifetime investment, it definitely should last you several years, which makes maintenance a pillar of its longevity.
Consequently, you need to have full knowledge of how to service and maintain your very own best printer for printing posters. Nevertheless, the brand from which you have purchased your device will have a massive impact on that.
When you go with more known brands, they will offer obvious steps regarding cleaning and maintenance. Also, they will have around-the-clock customer service that will help you get through any trouble. While other, less known brands may not offer you the same privileges.
Final Thoughts
This will be a wrap on our best poster printer article where we have discussed five of the best printers for posters along with a simple buying guide that will help you get through these murky waters.
Now, we'll end with a few recommendations based on our research. We'll start with the HP Designjet T120 boasts an impressive package of features, including a printers' poster size of 24 inches, a printing speed of 45 seconds for a single A1 sheet, and double printing technologies; thermal and inkjet allowing you to choose your own preference every time.
Our second option is the Epson SureColor T5170 with a printing speed of 31 seconds for an A1 sheet, a resolution of 2400×1200 dpi, and huge and rather economical ink cartridges; 50 mL for the color cartridge, and 80 mL for the black cartridge.
Our last option is the HP DesignJet T130l, with its printing speed of 35 seconds for an A1 sheet, a resolution of 2400×1200 dpi, and its top-notch horizontal cutter that allows you to deal with rolls and tailor them however you wish.