Printers serve a multitude of purposes today. You can find pages discussing the best printer for wedding invitations, or the best printer for teachers, or even the cheapest AirPrint printer. That is next to fundamental printer knowledge, such as what is the difference between ink and toner and how to use AirPrint to print from your iPhone or iPad.
Today, we'll discuss an idea for a very profitable business, or even a hobby, which is plotting and cutting vinyl for vehicle wrapping. This is the trendiest method of customizing your car, and all it needs are cutters/blotters.
At A Glance:
VEVOR Vinyl Cutter 34 Inch
Canon PF770
VEVOR Line Free
VEVOR Vinyl Cutter 34 Inch
VEVOR Off-line Vinyl Cutter
The 5 Best Printers For Vehicle Wraps in 2022
Now, let's start dissecting each one of these cutters/plotters in order to find the one that suits you the most.
Let's start with this specific model from VEVOR, which brings an incredible package to the competition. That is simply because it can do everything that any business, not just one that is concerned with vehicle wrapping, might need.
It can work with several paper types, and not just vinyl, with a 0.01 precision. Moreover, it's semi-automatic, which means that you won't be doing everything by yourself. Besides, this specific model sports a control panel that comes in addition to an LCD screen to make everything much easier to control.
Additionally, the entire cutter/plotter is very easy to set up for success as it's an anti-deviation mechanism that allows it to have a maximum cutting width of 30.7 inches without facing any trouble with any kind of paper.
It also has a 4M memory along with three different port connections. That way, no matter what kind of device is housing your data right now, you can easily connect it to the cutter/plotter and start working right away.
As for the cutting force, it lies anywhere between 20g-500g, according to your own preference. Unfortunately, if you own a MacBook, you won't be able to connect it to this cutter/plotter as they're not compatible with each other. Another thing is that if anything is to happen to the device, reaching customer support isn't the easiest thing to do.
What We Like:
Flexible with paper types
Can work with any Windows version
4M memory
LCD screen
0.01+/- precision
20-500g cutting force
Large control panel
Anti-deviation design
What We Don't Like:
Not compatible with Mac
Very little support
Final Verdict
In the end, this model by VEVOR hardly has any disadvantages, as long as you're not working with the MacBook. Other than that, you've a great cutting force, with strength and precision to work with, alongside easy set up and accessibility.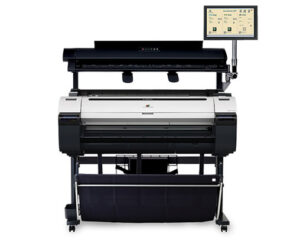 You can hardly go wrong with deciding to deal with Canon. All of its products are supreme, to say the least, and they'll not give up such a character when they're dealing with vinyl printing/cutting.
The Canon PF770 is all about giving you the best product possible for the smallest cost and the shortest time frame available. So, it comes with economy mode and high-speed printing, which still manage to work together to give you sharp, crisp output that you can hardly find any fault with.
Besides, the Canon PF770 comes with a bunch of pre-installed software that helps you get the most out of it and produce as much work as possible. First of all, you've a user-friendly interface that lets you manipulate almost every aspect of the print job.
Plus, if you don't have the print job on you or on a flash memory, you can easily have it uploaded to the Canon Cloud Portal and guarantee that you've your files with you wherever you go.
Additionally, let's say you want to have some written words in your next vehicle wrapping project; there is no problem whatsoever thanks to the Prograf Print Utility, which allows you to print PDF files and tackle them however you want.
We also have the accounting manager, which deals with how much paper you've, how much ink you've, and how much everything's going to cost to ensure that you don't lose money in the process of doing your job.
Another thing that does a similar job is the sub-ink tank system, which allows you to use every last drop of ink before you exchange the cartridges.
Sadly, though, there is one thing that is expensive when it comes to the Canon PF770, which is maintenance and replacements, specifically blades. Logically, after you've worked with the device for quite some time, you'll need to change the blades because they would've become dull. That will cost a significant sum of money.
What We Like:
Inkjet
Economy mode
High-speed printing
Sun-ink tank system
User-friendly software
Canon's cloud portal
Prograf Print Utility
What We Don't Like:
Final Verdict
If you're already a fan of Canon, and you do know how to deal with its products, then this printer/cutter is an excellent option for you. The Canon PF770 is economic, fast, and incredibly user-friendly, with the number of programs installed to help you help you.
Another product by VEVOR, which comes with a slightly smaller cutting capacity, 14 inches, is the VEVOR Line Free. Nevertheless, you're not missing out because it offers off-line working along with 16M of memory
This alone takes speed and performance to a whole new level. This is literally four times the strength of its predecessor. Furthermore, it gives you cutting strength between 10-500g, all adjustable according to what you need right now.
Furthermore, the VEVOR Line Free can work on any version of Windows, making it compatible with all kinds of computers except for Mac. Plus, this cutter/plotter comes with a triple port system; USB, COM, and U-Disk.
That way, you can transfer your data from whichever device you've on you to the cutter and start working immediately. Of course, that is made even easier by the presence of the large LCD screen that comes with the cutter.
Add to that the control panel that lets you navigate this screen with relative ease, and you'll find that working this device is genuinely a piece of cake.
Unfortunately, this model has been known to come missing a few parts. Hence, don't forget to check your package and compare it accordingly to what the website says you should receive.
What We Like:
10-500g cutting force (adjustable)
16M memory
Triple port (USB, com, u-disk)
Large LCD screen
Ergonomic panel
Off-line working
User-friendly software
What We Don't Like:
Incompatible with Mac
Assembly trouble
Final Verdict
The VEVOR Line Free is an excellent choice if off-line is your preferred mode of working. It gives you 14 inches of cutting along with 16M of memory, which is a great deal, to say the least.
As you can surmise from this article, VEVOR is a pioneer in the world of dealing with and cutting vinyl. They have too many options available on the market, and each one of them is designed to suit a specific workshop with particular needs.
This model is compatible with any Windows. This allows it to work its 39-inch magic with all computers except for Mac. The thing that this model focuses on the most is precision, as it comes with not one, not two, but three blades that work simultaneously to produce the most accurate designs.
Furthermore, it's a D-type motherboard and digital control, which make everything much faster and much more efficient when dealing with such massive projects. That is in addition to the Signmaster software that comes pre-installed on this cutter/plotter.
One thing that could've been significantly improved when creating this cutter/plotter is the memory, as we only have 2M of memory available.
Still, don't forget that you have both USB and COM ports available for the transfer of data back-and-forth. Last but certainly not least, we've 10-500g of cutting force available here. So, as we've said before, no matter how huge the project is, this device can definitely deal with it with ease.
What We Like:
Compatible with any Windows version
USB and COM ports
Digital control
Signmaster software
Three blades
What We Don't Like:
Final Verdict
If your projects are rather huge, yet you don't have the luxury of time, then this cutter/plotter is the one for you. With the three blades and digital control, everything is bound to be as smooth as ever.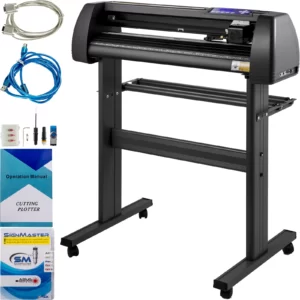 Last but certainly not least, is this model also by VEVOR, which combines a lot of great attributes from the previous models that we've discussed. Primarily, we're talking about the 16M of memory which brings both the efficiency and strength of the device to a whole new unpredictable level.
Furthermore, this cutter/plotter is entirely programmable as it can work off-line and by itself, so you don't need to sit there next to it as it does what it's supposed to be doing.
It's also compatible with all types of computers except for Mac, and it has a cutting speed of 10-800 mm/s.
All of that is controllable through the illuminated LCD screen, which provides you with valuable insight into what's happening inside of the device. Even the construction of this model is rather sturdy, thanks to the aluminum knurling stick. It also comes with both a USP and a COMPIM port.
What We Like:
Programmable
Can work off-line
16m memory
Aluminum knurling stick
COMPIM and USB available
Cutting speed of 10-800 mm/s
What We Don't Like:
Final Verdict
If you're worried about having to stay in your workshop all day long to make sure that larger-scale projects are being done exactly how you want them to, then this model would be your best friend. With 16M of memory and 10-800 mm/s adjustable speed, your problems are all solved.
How to Pick the Best Printer For Vehicle Wraps
Before we end this article, we'll tell you all about the fundamental characteristics that we looked at when picking out these five cutters/blotters.
Cutting Width
There are so many printers that deal with vinyl in the market; nevertheless, when you're dealing with vehicle wrapping, you need an abundance of workspace. In other words, you need to be able to print larger designs.
Can you print a large design in more than one installment and put it together? Yes, of course, it can happen. Yet, this is the easiest way of boosting the incidence of error. But, when you've your entire design in two or three pieces, it'll be much easier to put it together in perfect alignment without going through the trouble of the mix and match dilemma.
So, what is the proper cutting width needed to deal with the idea of vehicle wrapping? We'd say you need a minimum of 27 inches in cutting width. Some of the devices that we've spoken about go all the way up to 34 inches which is excellent.
So, always be careful in regards to the cutting width that you'll need. It could be the difference between a 30-minute application process and a 2-hour application process.
Cutting Strength
Cutting strength doesn't need to be explained. What we wish to talk about is that different materials require different levels of cutting strength to have that perfect incision that won't bother you as you empty out the design to perfect it.
As a result, always look for the word adjustable next to the cutting strength range. When searching amongst these large-format cutters/plotters, you'll mostly find the cutting strength to reach 500g, which is excellent.
But, you mightn't need all of that, as too much strength can ruin the material if the blades of your device are going down way too hard on it. That will result in a loss of time, effort, and money.
As a result, before you start any project, make sure that you know what kind of material you're dealing with, what kind of strength it requires, and how to adjust your device before each and every project to suit your current needs.
Allocated Space
As you've seen, all the devices that we've spoken about are relatively large in size and heavy. So, moving them around won't be an easy process.
Hence, you must have an allocated area for your cutter/plotter, where it doesn't need to move. This area has to be safe, so make sure that there's nothing around it that can knock the device over, probably damaging it due to the fall.
Having the device stabilized in a certain space will make your entire workshop much more organized as you know where everything related to the vinyl cutting and plotting is. It also means that no settings are changed unless you mindfully decide to change something.
Price
Before you embark on this adventure of finding the ultimate cutter/plotter for your life, you must know the price ranges available. You'll find vinyl printers and cutters that are on the smaller side, things that you can put on your desk and use to decorate the thermal mugs and tote bags.
These will cost you a couple of hundreds of dollars, nothing more. On the other side of the spectrum, we've devices that deal with cars. So, you must have a clear idea of how much money these devices cost because you're talking thousands of dollars.
Subsequently, when we're speaking about such a sum of money, you must think carefully about what you need from this device and have a business plan drawn to make sure that you're not just putting money down the drain.
Compatibility
Creating the fantastic designs that we see on customized cars takes time, effort, and tools; most importantly, your own computer.
Now, there are many who choose to go with Apple products for plenty of reasons. Nonetheless, keep in mind that several of the devices that we've met today are incompatible with your Apple laptop.
So, if you decide to go with one of them, you'll have to deal with it from a different laptop; hence, transferring all of your design work elsewhere, which mighn't be a perfect solution for many people.
Subsequently, they'll shift from this cutter/plotter to a different one which accepts Mac laptops. Always ask about compatibility before you make a commitment to any cutter/plotter.
Included Programmes
The programs included with your device are a miss or a hit; there's no in-between. You'll find that you're using a particular product with every project that you do or that you've installed it once and removed it right after, never to be looked at again.
Hence, always check the list of the pre-installed programs, and know which ones you'd use. Some of them might very well be worth the extra money that you might be paying. They can help you design, upload your work somewhere, or even deal with the whole accounting process of your business, calculating costs and overheads as you go.
Materials Supported
Another thing that you ought to ask about is the range of materials supported by this device. We know we're talking about vinyl car wrapping; but, having a few other options wouldn't hurt. You might start working with different materials for different purposes, and that too will bring in profit.
So, why not give yourself the chance from the beginning to widen the horizons of your business, or your hobby, so that you can deal with other materials. This can include flock, Magie cut colored paper, card stock, and even T-shirts. This kind of versatility is bound to up your game.
Customer Service
Last but certainly not least, customer support, how fast you can reach them, and how helpful they can be. When your entire workshop, and maybe even livelihood, is dependent on this device, it being out of order is not an option.
Consequently, you must keep your eye on it and keep your ears open for any weird noises so that you can deal with any problems as fast as possible before they turn into much bigger problems.
That is where customer support comes into play. If the company you're dealing with is serious about the satisfaction of its clients, they'll offer premium customer support that will be present 24/7 to help you fix your problems as fast as possible and with the smallest cost.
Otherwise, you'll start having to deal with third-party shops that you mightn't trust to have a full understanding of how exactly this device works and how it should be fixed.
In Conclusion
To wrap up, whether you wish to use your cutter/plotter for a business of vehicle wrapping or just as a hobby, you need to start out by knowing what is vinyl printing. Plus, what kind of tools do you need, and are they compatible with each other?
For instance, if you've a Dell laptop, you'll need to know what printer is compatible with Dell laptops, etc.
Now, let's end on a high note with a few recommendations for the best printer for printable vinyl. First, we've the VEVOR Vinyl Cutter 34 Inch with its 4M memory, LCD screen, and 0.01 precision. All of that is guaranteed to give you perfect output, as long as you're not working with a Mac.
Next, we've the Canon PF770, which is definitely on the top of the list for the best printer for vehicle wraps thanks to its huge selection of pre-installed software, connection to the Canon Cloud Portal and economy mode that allows you to print high-quality with low cost.
Finally, we've the VEVOR Line Free, which comes with a whopping 16M of memory, triple port system, and LCD screen.