Did your printer break before you get the chance to use all of your HP 60 cartridges? Don't worry; you can still make use of these cartridges by getting a compatible printer that works with them.
In this guide, we'll give you an overview of the best wireless printers that use HP 60 ink so you can pick the one that best suits your needs.
Comparison Table
| | | | | |
| --- | --- | --- | --- | --- |
| Model | Price | Duplexing | Maximum Paper Size | Maximum Print Speed |
| HP Envy 110 | Check Price | 16.8 x 4 x 13.25 ins. | 8.5 x 11 ins. | 11 ppm |
| HP Photosmart D110A Printer | Check Price | 15.8 x 17.4 x 7.1 ins. | 8.5 x 11 ins. | 29 ppm |
| HP Envy 120 | Check Price | 16.81 x 13.25 x 4.02 ins. | 8.5 x 14 ins. | 7 ppm |
Best Wireless Printers That Use HP 60 Ink in 2022
Let's take a more in-depth look at what each of these printers has to offer.
1. HP Envy 110 e-All-in-One Printer
There's a lot to love about the HP Envy 110, and its unique, stylish form factor is just the start.
The HP Envy 110 flaunts a multifunctional all-in-one design that allows you to print, scan, copy, and fax your documents and photos conveniently. Gone are the days when you had to get a separate device for each of these functions!
With the help of the HP 60 ink cartridges, the HP Envy 110 is capable of printing stunning 4×6 photos because your memories deserve to be saved in style!
As for print speed, the Envy 110 prints at a maximum speed of 11ppm for mono documents/photos and 7.5ppm for color documents/photos, which is acceptable at this price range.
What's more, the HP Envy 110 supports automatic duplexing, allowing you to print double-sided documents without breaking a sweat. Not to mention, it has a sweet color touchscreen LCD display that makes it easier for you to preview your documents and photos before printing, as well as adjust the printer's settings.
When it comes to connectivity choices, the HP Envy 110 can print over Wi-Fi and USB. You can also print directly from a memory card, thanks to the built-in SD card reader. Additionally, this printer supports cloud printing with services like HP ePrint and Apple AirPrint.
What We Like
Scan, copy, print, and fax functions
Modern design
Color touchscreen control panel
Supports automatic duplexing
Supports cloud printing (including AirPrint)
Built-in card reader
What We Don't Like
Bottom Line
The HP Envy 110 is an excellent, well-rounded HP 60 printer that's capable of printing high-quality documents and photos. It also sports versatile connectivity choices.
---
2. HP Photosmart D110A Printer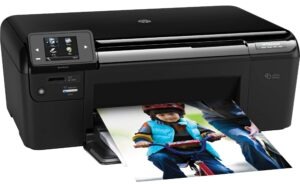 Just like the previous printer, the HP Photosmart D110A printer is an all-in-one device that lets you print, scan, and copy your documents and photos efficiently.
At a maximum resolution of 4800 x 1200 dpi, the Photosmart D110A can print sharp images that will not only look impressive but also last for a lifetime.
The printer's ink system consists of a black HP 60 cartridge, in addition to a tri-color HP 60 cartridge. And while this ink system is nothing fancy, it's definitely capable of producing vibrant photo images.
What's more, the D110A supports borderless printing, allowing you to create stunning photos of your memories and loved ones. Connectivity-wise, the HP Photosmart D110A supports USB and Wi-Fi. You can also insert an SD card for direct printing from your camera or phone.
Another area where the D110A shines is print speed. It can print 4×6" photos in as fast as 70 seconds, making it one of the fastest printers in its class. The standard print speeds are 23ppm for color and 29ppm for black.
Our only problem with this printer is its small input paper tray that's limited to 80 sheets only, but that's something that you can live with if you don't print in bulk amounts.
What We Like
Print, scan, and copy functions
Fast print speed
SD card printing
Supports borderless printing
Supports Wi-Fi
1200 dpi resolution
What We Don't Like
Bottom Line
If you're looking for a fast printer that supports HP 60 or HP 60 XL ink cartridges, the HP Photosmart D110A won't disappoint you.
---
3. HP Envy 120 Photo Printer
The HP Envy 120 sports a compact and modern design that speaks volumes of its functionality. Being an all-in-one printer, this device is equipped with a copier and a scanner to handle all your paperwork needs.
Along with Wi-Fi connectivity, the HP Envy 120 supports Ethernet and USB 2.0. You can also print directly from your camera's memory card, thanks to the integrated card reader. Alternatively, you can use the HP ePrint software to print over the cloud.
It's also worth noting that the Envy is compatible with the Amazon Alexa voice assistant. You just need to pair it up with an Alexa device to be able to print, scan, and copy your photos effortlessly with your voice.
On top of that, the HP Envy 120 can print at a maximum print speed of 7ppm in black and 4ppm in color.
What We Like
Premium design
Print, scan, and copy functionalities
Compatible with Amazon Alexa voice assistant
Intuitive LCD control panel
Supports cloud printing with the HP ePrint app
What We Don't Like
Bottom Line
Along with the premium design, the HP Envy 120 is a highly functional wireless printer that uses HP 60 and HP 60 XL ink cartridges. Its intuitive LCD display makes it a delight to use.
---
How to Pick an HP 60 Printer?
Before deciding on a Wi-Fi printer to use your HP 60 ink cartridges with, check out these tips to pick the most suitable one for your needs:
Print Speed
Waiting for your printer to get things done feels like 2006, and unfortunately, printers haven't improved that much in the speed compartment yet. However, some printers are still faster than others, which is something that you need to keep in mind when shopping for an HP 60 printer.
Connectivity
While many of the available HP 60 printers support Wi-Fi, additional connectivity solutions will always be appreciated. For example, some printers that use HP 60 ink have Ethernet ports, which can be handy if your wireless connection is unstable. A memory card reader would be great, too.
It's always easier to just insert your camera's memory card into the printer and print your photos directly without even having to start up your computer. Also, if you occasionally need to print your photos or documents remotely, you might want to consider a printer with cloud printing support.
Print Quality
A printer's print quality is a function of 2 factors: resolution and ink system. The print resolution or DPI (Dots Per Inch) is the number of ink dots that the printer head sprays in every inch of paper. The higher the DPI, the sharper your prints will be.
Also, sophisticated ink systems with 4 more ink cartridges deliver an exceptional color output, making them ideal for those who need to print photos, art prints, and other graphics.
Control
Being able to control your printer easily can definitely add up to the whole experience. Ideally, your HP 60 printer should have a color touchscreen control panel that lets you access the printer's settings conveniently and execute commands without even having to use your PC.
Frequently Asked Questions
Are HP 60 and 65 Ink Cartridges Interchangeable?
No, HP 60 and HP 65 ink cartridges aren't interchangeable. You can't use an HP 60 ink cartridge in a printer that supports HP 65 ink, and the opposite is true.
How Long Does HP 60 Ink Last?
An HP 60 ink cartridge could last you around 8 months, depending on your usage. Keep in mind that the maximum yield of an HP 60 cartridge is a little close to 150 pages.
Final Thoughts
That's it for now! We're hopeful that our guide has helped you pick the best HP 60 wireless printer for your needs. If you can't make up your mind, we can help you with a couple of hints.
Our favorite HP 60 printer is the HP Envy 110. It has all the functions that you could ever dream of in a printer. Alternatively, you can opt for the HP Photosmart D110A if you want something more affordable. It has some pretty cool features, like borderless and direct memory card printing.
The HP 60 ink cartridge is capable of producing some pretty stunning prints, and putting it in the right printer will let you make use of its full potential.